July 18, 2020
Dear Smithfield Staff and Families,
Each week, we will be providing a Return to School Committee Report. This 5th edition of the weekly report includes the plan submitted to ride, an update on transportation, and a survey on parental preference for distance learning or returning to school buildings.
Our Return to School Plan
Districts are not being given the choice of a return scenario. Instead, we were asked to create 3 plans for returning to school - full return to buildings, partial return, and limited return (distance learning) so that we will be ready for whatever the governor decides. Our plan is available on this link: https://bit.ly/394aWpD
An Update on Transportation
Thanks to all the parents who have filled out the transportation survey. If parents are planning to drive their children to school, letting us know ensures that we don't save a seat on a bus for those children. At the moment, the guidance on bus transportation allows for only one student on each bus bench (siblings can, however, sit together), than 2 or 3. Buses with a normal capacity of 71 or 77 have 21 -26 bench seats.
For our elementary schools, we are close to having enough room for all students whose parents are requesting bus transportation. Our challenge for these schools, however, is not being able to accommodate children on 2 different buses. If families, in the past, have had their children go to school on one bus then go to a daycare on a different bus, this cannot be accommodated this year, since students must remain in a stable pod for bus transportation. While the YMCA has made other transportation arrangements for children attending their program, other daycares have not. We will continue to explore potential solutions to this issue.
In past years, GMS and SHS buses have operated half-full. We are surprised, therefore, that we are far from having enough bus seats for students outside the walk zone. Far fewer GMS and SHS families have filled out a survey so we will be calling families over the next couple of weeks. Also, any students getting parking passes will automatically be taken off bus lists. If we cannot correct this issue, may have to employ another bus run at a very high cost to the District (and a wasteful cost if buses end up with fewer than 10 students). Another option allowed by the state is to have secondary students attend school in person every other day and do some form of distance learning on other days (which is our partial plan). If you have not yet answered the bus survey, here is a link to the form: https://forms.gle/4z7mcBswjHHocmmu8
A Choice?
The guidance from the state that districts were asked to follow to devise return to school plans did not include providing a choice for distance learning. The scenarios in RIDE's guidance document is provided below: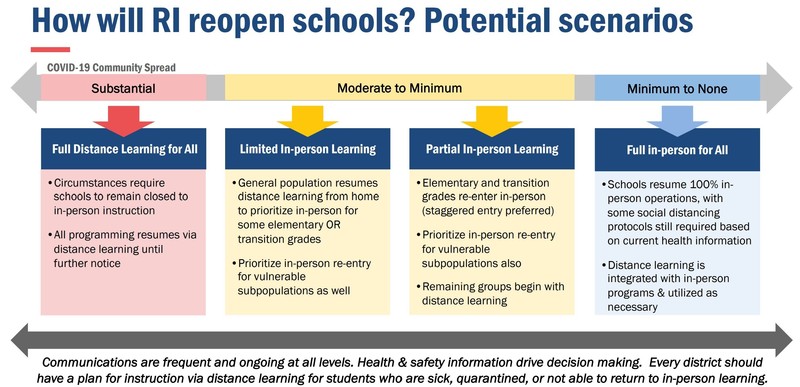 In the 100% return scenario, distance learning is used when students are temporarily out of school for illness or for students who are severely medically fragile.
Some districts, however, are attempting to plan for a choice for families, despite this not considered in guidance documents. We do not know if these plans will be found acceptable nor have we determined the logistics for doing this in Smithfield. Pulling teachers out of individual schools to do distance learning would leave class sizes too large for remaining teachers unless the corresponding numbers of students also choose distance learning in that school. If there's too many students in a certain grade, we would have to transport those students to a different school, a transportation challenge and an unpopular outcome for many families. We continue to work on a solution to this challenge should the state allow for choice. In the meantime, we have asked families to fill out a survey indicating interest. We hope families will complete one form per student by Monday https://forms.gle/UxFxYGYhsXwSKx4q9
Although the plan was submitted to RIDE on Friday, July 17th, our committee will continue to plan through the summer and additional reports to the community will be distributed each week.
Sincerely,
Judy Paolucci, Superintendent
and Members of the Return to School Committee